Leo Kowal
Founder / Photographer
Born in Rzeszów, Poland, and raised in the vibrant South Side of Chicago, Leo embarked on his career journey at the young age of 15. He found his footing in the tech world by providing technical support for an outsourcing company aiding USRobotics during the dial-up boom. His tech expertise was honed further with stints at established corporations such as MCI Worldcom, Chrysler, and Sharp Electronics.
As he traversed the corporate landscape, Leo was known for his knack for training call centers on USRobotics networking products, travelling extensively across the country. Yet, he always found time to explore his creative passions—photography, videography, and songwriting—that offered a much-needed artistic balance to his technical endeavors.
After experiencing the volatile nature of corporate life during the 2008-2009 recession, Leo resolved to carve out his own path. Partnering with his then wife, he founded SVGCuts in 2009—a venture that mirrored the ethos of his current company, Dreaming Tree. Their hard work and dedication culminated in a triumphant win at Martha Stewart's American Made Audience Choice Award in 2013.
Beyond the realm of work, Leo is a dedicated father to Payton and stepfather to Gabrielle and Gavin. His personal passions are as eclectic as his professional portfolio, including playing Kan Jam, Pickleball, and Foosball, working out, fishing, and spending time in the tranquil Northwoods of Wisconsin. An adrenaline enthusiast, Leo is always up for a thrilling rollercoaster ride. And when it comes to music, his playlist is as diverse as his interests, from the melodies of Grateful Dead, Dave Matthews Band, and John Mayer, to the rhythms of Beastie Boys, A Tribe Called Quest, and De La Soul, with a dash of the timeless Chopin and Helen Jane Long.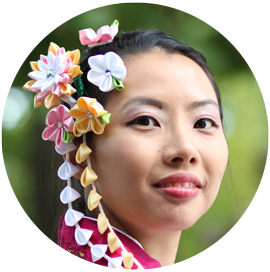 Diana Tam
Product Designer / Art Director
Diana was born near São Paulo, Brazil and moved to the USA when she was 18 years old. Holding multiple degrees, a bachelor's degree in media arts and animation from the Illinois Institute of Art (Schaumburg, IL) and an associates in applied science minoring in animation from the College of Dupage (Glen Ellyn, IL). Diana has held creative positions within the College of Dupage multimedia department where she created digital content for the college's TV station as well as at National Engravers where she conceptualized various medals and corporate awards in 2D and 3D spaces. When she's not busy engineering 3D paper projects for Dreaming Tree, she indulges in Korean television dramas, other forms of art, music, travel, her two kitties, Rio and Riku and her doggie, Kimchi. Diana also has a passion for fishtanks and raises shrimp. She also enjoys eating shrimp. Shhhh, don't tell her shrimp that. Diana is happily married to the love of her life, Aaron Baby.
Mike Fernholz
Customer Support Specialist
Mike comes to Dreaming Tree from Southern California with a lifetime of technical and customer service experience. Working for companies like Bank of America and Home Depot (just to name a few), Mike served in customer-oriented roles which included supervisor, corporate trainer as well as help desk department manager. In addition to his work, Mike has always had an interest in crafting. He discovered the world of cutting machines in 2009 when he purchased his first Silhouette (he's a Silhouette and Cricut guy now) and has been an active part of this growing community since. In addition to electronic cutting, he enjoys photography, graphic design, making YouTube videos, growing plumerias and spending time with his family (especially at Disneyland).