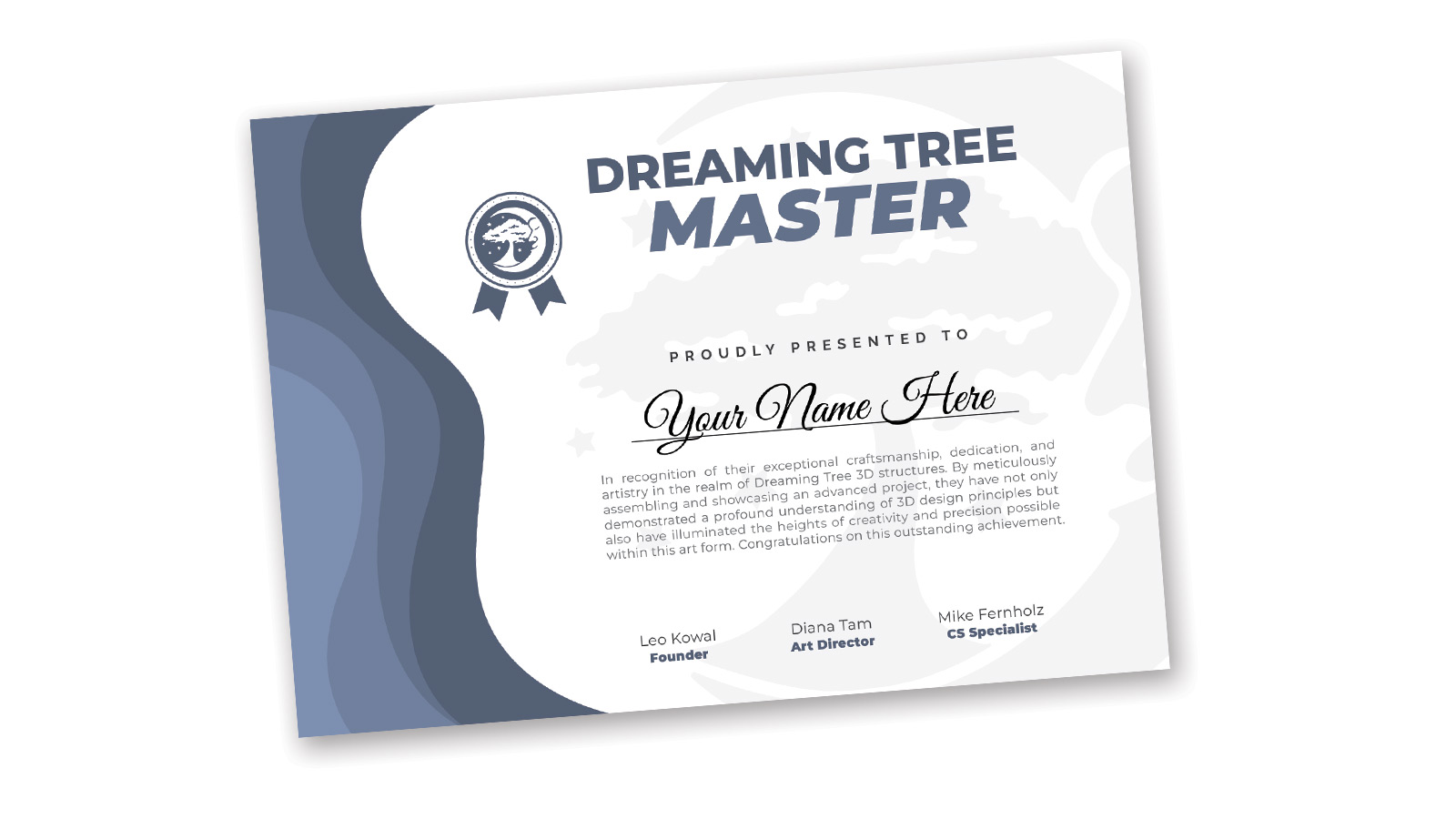 Welcome to the Dreaming Tree Master Program! We've always believed in the boundless potential of our crafters, and this exclusive initiative is designed to celebrate those who rise to the challenge and master our most advanced projects. If you're passionate about pushing the limits of your crafting prowess, this program is your stage. Once you've completed a designated advanced project, submit your masterpiece for review. Our dedicated Dreaming Tree team will meticulously evaluate your work, and if it meets our esteemed criteria, a 'Dreaming Tree Master' certificate will be yours, a testament to your unparalleled skill and dedication to the craft.
This is a personal challenge, not a competition among members.
This program is completely FREE, and optional.
Please use the form below to submit your project for review. DO NOT submit your project for review on any of our social media channels, including the Dreaming Tree - Official group on Facebook.
All communication regarding your submission will be done privately between Dreaming Tree employees and the person submitting their project via email.
Dreaming Tree will not make any announcements or posts when a member earns a Master Certificate.
Out of respect to those who cannot enter (especially those in regions where supplies are scarce or too expensive), we'll ask that members who earn a certificate not make an exclusive post about it in the Dreaming Tree Official Group on Facebook (this takes away from the normal flow of the group as it's supposed to be pictures of projects anyways). We don't mind if post a photo of your creation and mention that you earned it, we just don't want pictures of certificates in the group.
A qualifying score of 80 is possible without the use of inking and/or embossing.
Dreaming Tree Master Program Point Structure (100 Points Total)
Project Assembly Accuracy (60 points)
This category will evaluate how closely the finished project matches the original design and instructions. Details like clean cuts, precise folding, and proper alignment will be closely examined. You do not have to use the same paper colors, inks, or embossing folders. This category is strictly about assembly accuracy.
Point distribution:
45-60 points: Superior craftsmanship, precise assembly.
30-44 points: Good assembly with minor discrepancies.
15-29 points: Noticeable issues but largely intact.
0-14 points: Significant problems with assembly.
Color Selection (25 points):
Projects should feature harmonious, aesthetically pleasing color combinations that complement the design and occasion.
Point distribution:
20-25 points: Exceptional color choices that elevate the design.
15-19 points: Appropriate color choices, some minor mismatches.
8-14 points: Some questionable color choices.
0-7 points: Colors clash or detract from design.
Inking and Embossing (10 points):
While not the primary focus, the added depth and texture from inking and embossing can enhance the overall appeal.
Point distribution:
8-10 points: Skillful application enhancing project depth and texture.
5-7 points: Moderate application, some inconsistencies.
2-4 points: Minimal or heavy-handed application.
0-1 points: No inking/embossing or detracts from design.
Photograph Quality (5 points):
While the primary focus is on the project itself, a clear, well-lit photo can better showcase the craftsmanship. You don't need any special or expensive equipment to take a great photo.
Point distribution:
4-5 points: Clear, well-lit, free of background distractions.
3 points: Adequate lighting, minor distractions.
1-2 points: Poor lighting or significant distractions.
0 points: Unusable photo or not provided.
To qualify for the Dreaming Tree Master certificate, participants must score at least 80 points in total. Should you fall short of the 80-point mark on your initial submission, don't be disheartened. You'll receive an itemized score, offering insights into areas for improvement. Feel free to make adjustments and resubmit your project. Please note, that a maximum of two resubmissions are allowed for each project.
Qualifying Projects